Going by the observation and data, we can rightly call 2020 the year of e-commerce. The COVID-19 pandemic has accelerated the expansion and growth of the industry with new products, models, and entrants. High demand for easy and safe access to a variety of products has enabled online sellers to continue operations even during restrictions.
This soaring demand has also pushed traditional businesses to switch to online models, overcrowding the market than ever before. Despite different scales of challenges, this dynamism and change are visible across the countries and markets. Who would have thought elderly people buying their medicine and groceries online a while ago? And this is very much true across the developing and developed world.
---
Look into the Data

If we look at the data and emerging stories, they provide us credible insight into rapid growth, changes in the economy, and consumer behavior.
According to Statista, due to the shifting consumer behavior and expanding market, this year's total e-commerce sales will exceed the $4 trillion mark. The NY Times has reported that Amazon has hired more than 427,300 people in 10 months, which is roughly 50 percent of its workforce.
On average, e-commerce websites witnessed annual traffic rising by 30 percent. Majority of the interest has been witnessed in three segments: Home & Garden, Food & Groceries, and Sports & Outdoors. SEMrush has done a detailed breakdown of the traffic increase of the leading players.
However, the positive effect of COVID-19 crisis on e-commerce is not uniform across all product categories or sellers. For example, there was a visible surge in demand for personal care, grocery, and ICT items, but the demand for sports, formal clothing, and travel-related items saw a sharp decline.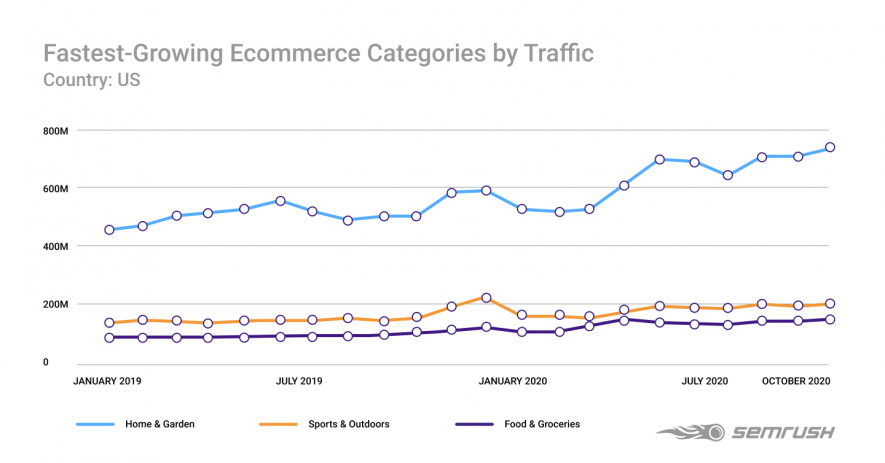 Monthly search volume for "buy online'' almost doubled in the first month of the pandemic, and the overall year-on-year (YoY) trend suggests these searches have gone up by 50 percent.
Amazon's Q3 financials confirm that the company's net sales grew 37% year-on-year worldwide, and 39% in North America. The company made $96.1 billion for the period, performing beyond the expectations ($92.7 billion)
On November 11, Alibaba pulled in record sales during Singles Day events in China. During this 11-day campaign, it closed sales of more than $74 billion (26% more than the 2019 event). The company claimed to have processed 583,000 purchases per second during peak time.
---
Changing Search Behavior
SEMrush has published a very detailed study on trends and changes in users' search and purchase behavior. Here are key trends across all the fastest-growing e-commerce categories (home & garden, grocery, and outdoor).
Majority of the site traffic to (for these categories) comes from direct searches. Two third of the people shopping for food and grocery knew which product and brands they were looking to buy and went straight to those. Around 50 percent of the traffic to these websites was direct traffic.
Roughly 20 percent of shoppers came via web search, where the audience prefers to surf the web in search of a brand that can satisfy their needs. You can say that search traffic was the second-most important traffic source.
12 percent of the site visitors came from referrals to these categories – which makes referral as the third leading channel.

Social media drove less traffic than the rest of all channels. Still, there are some remarkable lessons. Out of the most popular channels, Facebook, Pinterest, Twitter, and YouTube lead the race, though percentage control of the mix is different across all niches.
---
What's in it for marketers?
1. Brand awareness is the key.
If half of the traffic to the e-commerce sites is direct, it means people knew and had trust in those brands. Creating a loyal customer base has to be the primary aim of marketing, and earning loyalty is very hard. A business has to invest a lot of time, effort, and resources in winning loyalty.
2. Invest in search engine optimization
"SEO is dead" has been the most (mis)used phrase in the online marketing world. However, as we can see in the number of searches and the percentage of traffic coming from search, SEO is not dead. Those fellows who believe that e-commerce is all about performance marketing should revisit the strategy.
3. Invest in referrals (internal and external)
Referral programs are a substantial source of brand development and revenue. From developing reward systems on the purchase of X amount to offering some membership cards, there are a lot of working models available. Similarly, work with media partners and collaboration platforms on some referral system.
4. Use social media wisely
Facebook and Instagram are the best social channels for B2C, but the latest data suggests that Pinterest, Reddit, and YouTube have their own share. Therefore, the best approach is to select the channels as per product category and expected users' behavior.
5. Work on the user-experience
Probably the biggest challenge for e-commerce brands is not (just) to drive traffic but to convert. The conversion rate, even at the most successful of online stores, ranges between 0.6 and 7.9 percent. This may have different factors, but user experience and catalog optimization are probably the most important.
The Future
For now, the changes in the e-commerce landscape look likely to stay in the mid-term, until we vaccinate a large number of the population. As long as there are social distancing measures in place, people will be relying more on online vendors. While this challenge brings enormous opportunities for the businesses to grow, it also has its share of challenges attached.
The persistent digital divide, regulatory measures for consumer protection, and barriers to entry for new firms are some notable challenges that we still need to address. This has to do with the states and government, and they should provide a regulatory framework to businesses while protecting the interests of the consumers. Consumers need financial inclusion, digital literacy, and legal protection and new businesses require clearer policy support for healthy competition.
What do you think about the future of e-commerce? Please feel free to share your comments or thoughts on this write-up via comment below.
---